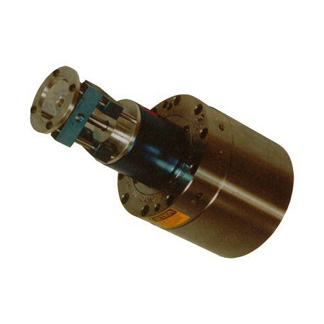 Hydraulic Rotating Cylinders 
Jeysons Industries is an exclusive distributor of Stephens Dynamics, Inc, USA for Indian market.
Stephens Dynamics, Inc. Model SCH & SCHL hydraulic rotating cylinders are the right choice for a remarkable broad range of applications. The newly enhanced design of our SCH & SCHL cylinders are very versatile with through port (for cooland and or part detection) and stroke detection features, as well as very durable due to non-rotating port connections. There are no fragile rods for rotating couplings and no oscillating or wobbly target dogs to cause vibration or premature wear. We have an outstanding collection of high-performance features.
High Speed Rotation
Currently up to 7000 RPMs on all bore sizes with future engineering for higher speeds.
Individually Balanced Cylinders
Enhances high speed operation in vertical, horizontal and inverted applications for smooth quiet machine operation and improved part finishes.
Built-in Lock Checks
Provide Maximum protection. Internal check valves trap operating pressure in cylinder in case of power or hydraulic system failure. Our Lock Checks also work in "Hi/Lo" applications. Easy replacement cartridges ideal for quick maintenance.
Efficient Compact Design
Allows operation in restricted areas. The SCH & SCHL short length makes it ideal for vertical applications where spindle-to-floor clearance is limited.
Directly Interchanges
with all American Standard Mountings for quick easy replacement of your old style cylinders.
Tailored Option
The SCH & SCHL can be equipped with a tailrod to sense piston position, i.e. automatic loading applications
Special Non-Work Holding Applications
For specific applications, these cylinders can be used and/or modified for various uses in a multitude of environments.
Applications